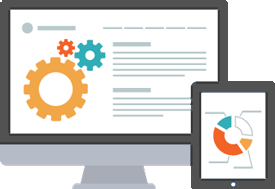 Websites don't have to be complicated, but they do need to be strategic. At Incite IT, we believe that a website is only as effective as the plan behind it. With that in mind, we work with you to determine the site structure that best suits your business goals, and develop a site for that purpose.
When you use Incite IT for your next website project, here's what you can expect:
WordPress
The industry standard content management/publishing tool, WordPress is hands down the best way to manage your site's content. Having WordPress installed as the back-end of your website means that you can make changes whenever you like, using a simple visual interface. Your site is easy to update and stays looking professional.
Visitor Flow Analysis
We'll sit down with you and talk about what you want to get out of your website, and how we can help you get there.
A Strategic Look And Feel
You want a website theme that caters to your target audience. Sometimes that means minimal, other times it means bright and bold. We'll find a design that fits in seamlessly with your business image.
A Complete Project
We have experience with a myriad of technology solutions. Whether you're trying to use your website with your CRM, tying in your social media accounts, or using your website to gather sales leads, we can make the entire process work.
If this sounds like the kind of web design firm you're looking for, let's talk!