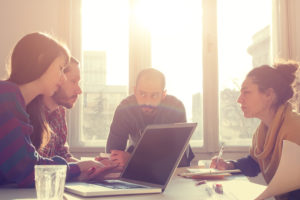 In business, trust is critical. Who can you trust to handle your company's crucial systems and data? Who can you rely on to support your employees with patience, and yet with urgency?
With extensive experience in managing technology infrastructure at both the corporate and small business levels, Incite IT will keep your company's technology running smoothly and your users productive. We know your employees' time is valuable, and maximizing network uptime is essential. We go beyond simply managing systems by working to make sure that individual users are getting the most out of their technology.
From computer workstations and servers to network hardware and mobile devices, we can keep your systems stress-free.
Why Choose Incite IT for your IT Management Needs?
Get back to running your business – instead of wasting your resources stressing over technology
Get more accomplished – with the best in IT solutions to move you forward
Eliminate budgeting surprises – IT support with a flat monthly plan that fits your budget
Defend your valuable resources – with modern security for your data and network systems
Rest easy – with reliable backup services for your critical systems
Managed Services That Work For You
We provide a wide variety of technology solutions to help small businesses prepare for and sustain growth, including:
Remote monitoring of workstations and servers
Local and cloud backups
Managed endpoint Antivirus
Network security management
Email support for Exchange and Office 365
Website solutions
Critical update and patch management
Server virtualization, installation, and migration
Remote and on-site tech support
From our offices in downtown Columbia, SC we have clients across the Midlands, including Lexington, West Columbia, Cayce, Irmo, Chapin, and the Northeast.